Working on Education

WWF Scotland believes that learning has a vital role to play in achieving One Planet Future – a sustainable future where humans live in harmony with nature and within the limits of our planet. Our Education Team at WWF Scotland are:



Working with decision-makers in the Scottish Parliament and Government, so that learning for sustainability features prominently in policy making.
Working with groups of Scottish schools to show how sustainable development can be embedded in all their activities. 
Working to provide education resources especially designed for Scottish schools.
Working in partnership with our colleagues at WWF-UK to maintain a dedicated educators' website, where you can access general WWF resources, case studies and toolkits for schools.
Working, with others, to make sure that teachers have the training, resources and remit to deliver sustainable development.
WWF Scotland is at the forefront of campaigning to change policy and provide support to ensure that our education system equips learners to live sustainably on our planet. In Scotland we work closely with other environmental and development organisations to achieve this, through the Sustainable Development Education (SDE) Network and the International Development Education Association of Scotland (IDEAS).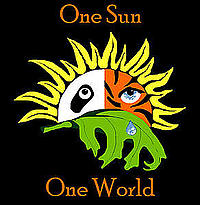 One Sun One World
Global approaches to transition and interdisciplinary working
This report documents work carried out by schools in the Kingussie Associated School Group (ASG) (Kingussie High, Alvie Primary, Aviemore Primary, Gergask Primary, Kingussie Primary and Newtonmore Primary) in 2011-2012 as part of their joint working to support the transition of pupils from primary to secondary school.

The initiative was based on WWF's One Sun One World musical and supported by partners WWF Scotland and the Highland One World Group as part of the Global Learning Project Scotland.