Scottish Government sets the bar on renewables
23 July 2012
The Scottish Government "has shown very welcome leadership" on it plans to support renewables, said WWF Scotland today.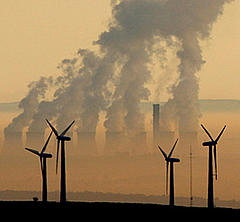 WWF Scotland's director Dr Richard Dixon made the comment following an announcement confirming the level of support the Scottish Government plans to offer the onshore wind sector.

Dr Dixon said: "The change in the level of support reflects the fact that the cost of onshore wind is coming down, but is set at a level that will still maintain investor confidence"

WWF believes that Scotland's 100 per cent renewable target is a "great example of how strong commitment to a low carbon economy builds confidence, cuts emissions and creates jobs" and in the coming months "we hope to see similar ambition to improve the energy efficiency of our homes."

The news comes on the same day as the publication of a highly critical report by the influential House of Commons Energy and Climate Change Committee on the UK Government's draft Energy Bill.

The Committee warned that the Government's energy reforms are "unworkable", and that householders will face bigger increases in fuel bills because of policy differences. This is hardly surprising since the UK Government wants to spend billions of pounds of taxpayers money on subsidising new nuclear power and encouraging a new 'dash for gas'.

WWF Scotland's Senior Climate Change Policy Officer Dr Sam Gardner said:



"This damning report makes it very clear that the current UK's proposals are unworkable and will hinder Scotland's progress to achieving our low carbon future.



"Rigging the UK energy system in favour of nuclear and gas instead of clean renewables and energy efficiency is not what the country needs or wants. The Scottish Government should continue to press the UK Government to prioritise the win-win opportunities offered by energy efficiency and renewables to deliver clean, affordable energy and green jobs."

On the issue of coal and gas the Committee's report said that the UK Government's proposed emissions performance standard for UK power stations was 'pointless' because it would do nothing to bring emissions down in line with our legal obligation to do so.

Dr Gardner added: "The Scottish Government has an opportunity to set its own standard that is fit for Scotland. This means moving quickly to introduce a pollution limit for coal and gas stations in line with the emissions cuts required by Scotland's Climate Change Act."


---
blog comments powered by

Disqus