Low Carbon Homes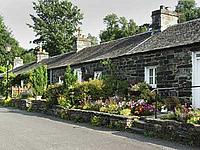 While energy standards in new homes continue to rise, much of Scotland's existing housing stock remains cold, damp and fuel inefficient. One third of Scots now live in fuel poverty and numbers are rising not falling. Fuel poverty blights many lives – it leads to significant physical and mental health problems and as such is a major drain on the health service.

Homes also produce around one quarter of Scotland's carbon emissions. The Scottish Government is required by law to cut emissions by 42% by 2020 and to end fuel poverty by 2016. We cannot meet these targets without significant investment in domestic energy.

WWF Scotland is calling for an ambitious programme to transform the existing housing stock, something that will have huge environmental, economic and social benefits.
We want to see:
Minimum Standards set for all Scottish homes from 2015
A National Retrofit Programme to co-ordinate action
A commitment from the Scottish Government to spend £100million a year on domestic energy
Together these commitments will deliver efficient, joined-up action on home energy and help support uptake of the forthcoming Green Deal. We are engaging the Government and other key organisations, both directly and through the
Existing Homes Alliance Scotland
, to encourage a commitment to these objectives.

The Existing Homes Alliance Scotland is a coalition of organisations calling for urgent action to transform Scotland's existing housing stock and make it fit for the 21st century.
WWF Scotland was instrumental in establishing the Alliance which has grown into a well-supported network of public, private and NGO organisations.
Members include:

Energy Action Scotland,
Scottish Building Federation,
Scottish Federation of Housing Associations,
The Energy Saving Trust,
Chartered Institute of Housing, 
Association for the Conservation of Energy,
Consumer Focus 
Camco.

The ExHA has been active in engaging with the Scottish Government, Parliament and other key players to promote a joined up and properly funded approach to home energy improvement. Together the organisations involved have agreed a declaration on the future of Scotland's existing homes supported by 10 key recommendations for action.

We have submitted evidence to Parliament on the benefits of integrated action and the need for increased funding. We have also held a seminar with DECC, the Scottish Government, Consumer Focus Scotland and other key stakeholders to raise awareness of the Green Deal.